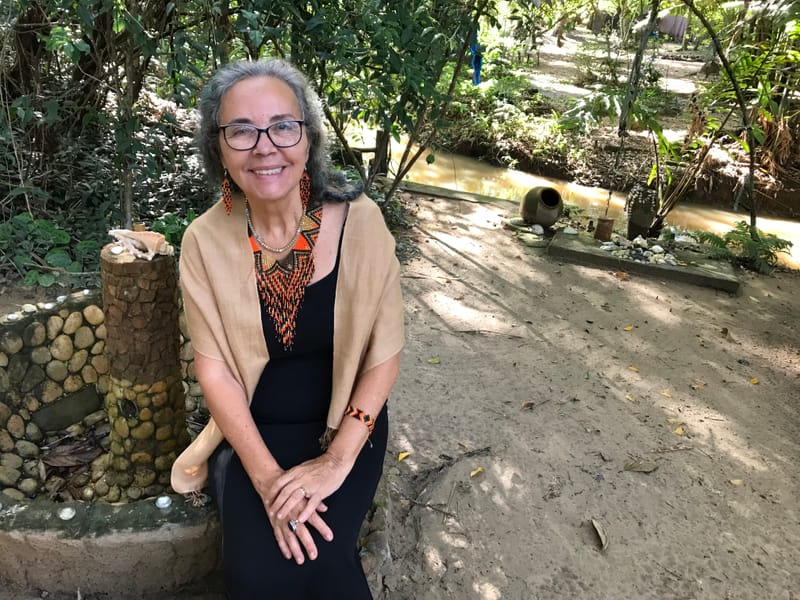 It was a late afternoon, towards the end of the 1980s, when the XamAM Alba Maria Nunes Santos received the inspiration that her home, where she lived with her husband and children, would be a place for the development of humanity. Following her intuition, she donated the space to be what it is today, a dream come true : Fundação Terra Mirim - Centro de Luz, which translates to Terra Mirim Foundation - Centre of Light, as stated in the Statute of this institution.
XamAM was born in 1953, in Passo de Camaragibe, in the interior of Alagoas, Brazil, and 30 years ago brought Shamanism to Bahia, Brazil. She lived various experiences and initiations within the tradition of Shamanism throughout the world, most especially in Peru, in the Andean lands, and in the sacred valley of the Incas... She says that her initiation process began at birth, especially with the Air Element, which she struggled with throughout a difficult childhood because of the intense asthmatic crises that led her to feel and perceive death so close to herself.
She is a shaman, a psychologist with an academic background and a writer. Joining these three talents in a single path, she created the Terra Mirim Foundation. She participated in its birth, growth, and expansion. Even today, 27 years later, she makes a point of meticulously following each step of the path of Terra Mirim Foundation, despite the many trips she makes around the world.
An untiring devotee, she carries the message of Shamanism of the Mother Goddess wherever she goes. And being guided by the four elements of nature: the earth, the air, the water and the fire, she continues to realise what she calls "my destiny".
As stated in the Foundation Statute, to live in community is to learn through interpersonal relationships, within the pillars of ethics, citizenship and respect for all expressions of life, integrative ecology, environmental preservation, human and spiritual development. At Terra Mirim there is a practice natural foods consumption and exercise lifestyles that are not harmful to oneself or to the whole. With this purpose, XamAM promotes what is currently known as the Terra Mirim Tribe. And since 1992, the community nucleus has been formed. Terra Mirim today is a network that reaches several European countries, such as Germany, France, Italy and England. The XamAM and her companion on this journey, Shaman and ayahuasquero Dhan Ribeiro, make journeys all over the world leading deep shamanic journeys.
A few years ago birthed a great new journey, THE great new journey within Terra Mirim, the Shaman School, which unites people from all over the world interested in self-knowledge through Shamanism and the awakening of consciousness.